STORY: The Hummingbird Bakery launches brand new collections for birthdays and celebrations

Jul 27, 2023
Iconic American bakery and world-renowned stalwarts on the London dessert scene, The Hummingbird Bakery has launched a new range of celebration cakes, whether it be a baby shower, birthday party, a gender reveal party, or wedding - there is a cake for every occasion. New Zodiac Sign cakes are a great addition for birthday celebrations and the Woodland Collection is ideal for kids outdoor parties! Celebrations don't stop there, choose a cake to mark the end of the school year or to celebrate your teachers with the School Days collection. 
Pretty in pink and suitable for any occasion, the new Rose Pink cake has four layers of fluffy vanilla sponge covered in soft pink vanilla buttercream. Topped with handmade sugarpaste roses painted in gold with gold leaf trailing delicately trickling down the side, the Rose cake is a charming centerpiece to a birthday, engagement, wedding or any other occasion. It's available in blue, pink or cream. Priced from £80.00. 
The Hummingbird Bakery also has a wide range of Baby Shower and Christening cakes. Select the Storytime Cake in either chocolate or vanilla sponge with vanilla buttercream frosting in pale blue, white or pale pink. Welcome new arrivals with the Baby Shower Cupcake Collection available in three vanilla buttercream frosting colours. The icing rainbows are handmade in soft pastel colours, with fluffy white clouds and lightly coloured stars and moon. The white vanilla Storytime Cake can also be ordered as a gender reveal cake, with the option of pale pink or pale blue sponge, finished with white buttercream. Priced from £80.00.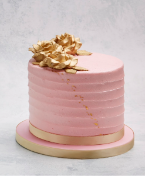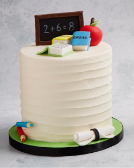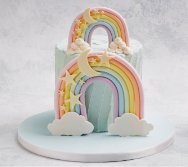 The stars are aligned for the new undeniably heavenly Zodiac cakes! The Zodiac Collection offers a range of cosmic hand-decorated cakes with an out of this world galaxy sponge, topped with fluffy Vanilla buttercream in a vibrant blue night sky colour. Customers can choose from Zodiac cupcakes (£27.50), each one topped with a different zodiac sign or opt for Zodiac Galaxy cake (Prices from £65.00), four layers with starry gold flecks and topped with an elegant hand-made constellation sign.
Take outdoor birthday parties to the next level with cute woodland creatures, perfect for little ones who love nature and animal stories. Choose from the Hedgehog, Bear or Fox cake, all available in vanilla or chocolate sponge and covered with piped chocolate and vanilla frosting. The perfect addition for an outdoor party or scavenger hunt! Priced at £55.00.
Say 'I do!' to fresh American home baking for your big day with a range of Wedding cakes from The Hummingbird Bakery. Choose from a Red Velvet wedding cake (prices start from £220.00) to a Rainbow Sprinkles cake (prices start from £142.95) or the Snowfall Wedding cake for the winter season (prices start from £146.25)! All wedding cakes are handmade to order, a minimum of 7 days advance notice for all orders and they are only available for collection from the Spitalfields bakery. 
Back to school - what better way to show your appreciation and celebrate your achievements and teachers, last day of term or maybe your first day of school with the new handcrafted School Days cake, a fluffy vanilla rainbow sponge covered in white vanilla buttercream and topped with handmade sugarpaste items that celebrate all things school; choose from the range of messages that can be written on the chalkboard. Priced from £80.00.
Marta Nilsson, Head of Bespoke of The Hummingbird Bakery, commented: "Being Head decorator is a sweet blend of creativity and craftsmanship where I get to sculpt dreams into reality and transform simple ingredients into edible art. My favourite part of my role at The Hummingbird Bakery is that I get to embrace the challenge of experimenting with new techniques, styles, designs and always seeking to create cakes that leave a lasting impression on every taste bud and heart they touch.
I am especially excited about our newest launch of the Zodiac collection and Woodland creatures. The Zodiac collection tells the cosmic stories of the stars while the woodland creature cakes bring the charm of nature and whimsy into edible form. And let's not forget how much FUN I had being elbow deep in frosting and covered in gold paint while creating these!"