STORY: BAKERY IN SEVENOAKS, KENT NAMED BEST IN UK
www.nationalbakeryawards.co.uk

Jul 13, 2023
A microbakery, at the heart of its community near Bradbourne Lakes, Sevenoaks, Kent, has been named as the best bakery in the UK, after it won the top title at the 2023 National Bakery Awards.
Bradbourne Bakery was named the National Bakery of the Year at the annual event on Wednesday 12 July, after judges commended the bakery for its incredible ethos, amazing bread and inspirational journey.
The bakery is run by lifelong bread enthusiast Annabel Carter and is named after Bradbourne Lakes, a lake and community in North Sevenoaks where Annabel used to feed the ducks as a child, and now lives with her family.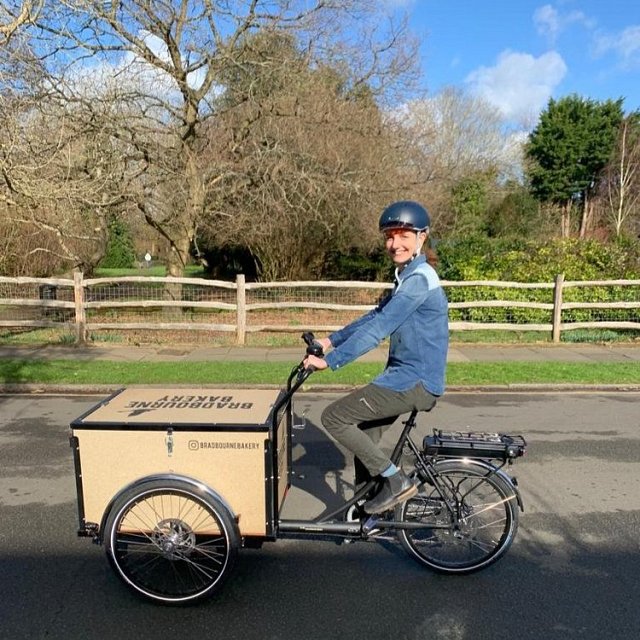 Unable to find the bread she wanted to buy in her hometown, Annabel set about starting a real bread revolution from her home kitchen, baking loaves you cannot find anywhere else in Sevenoaks.
Bradbourne Bakery was named Best Bakery in Kent at the 2020 National Bakery Awards and in 2021 Annabel's sourdough was awarded a coveted Great Taste star from the Guild of Fine Food. In 2022 these accolades opened opportunities for Annabel and she was able to secure funding to buy an electric cargo bike, committing to making all future deliveries emissions-free; the first business of its kind in Sevenoaks.
"I am really delighted. It's so nice to be recognised. When you work alone, you get lots of great feedback from customers, but to have industry recognition means an awful lot, so I'm really, really pleased. As an independent, it is that little bit more special, because I've built this business entirely from scratch on my own."
Annabel grew up in Sevenoaks and returned again in 2013 with her young family. Along the way she has had a varied career – some of it deliberate and some accidental – being a news reporter at The Scotsman, running a national filmmaking program for young people and working in a flea circus. She moonlighted on national live radio and has been to Number 10 to make breakfast for the Prime Minister. Her first job was at an Edinburgh cinema where she managed to set fire to the popcorn machine!
None of this is much use when it comes to making great bread, but it gives her a lot to think about while baking!
Luckily for Annabel, COVID was a big turning point.
In 2018 Annabel sold her first loaf, baked in her domestic oven.
"I started my business in 2018, because our high street bakery was shut, and I couldn't find anything I wanted to eat in Sevenoaks. So, I started making it myself and then became really passionate about baking for my neighbours, which then made it into a very small business.
"At that stage, I had about 20 customers, but it grew really quickly, mainly through word of mouth, as I didn't have a website at that point. But people would just contact me, they'd hear about it, they would have had some of my bread from their friends, and it just grew from there. Initially, I had people come and collect from my house and I got to know customers really personally. But because of COVID, overnight I had to change. I had to stop my customers coming over, but I still wanted to carry on baking. So, I began delivering over the pandemic and I carried on through all the lockdowns."
6000 loaves later, she finally bought a specialist brick oven.
Every loaf is mixed and shaped by hand, with the radio on, in a process crafted over three years. The focus is a long, slow ferment for great flavour and digestibility. Each loaf is baked on a hot stone in a specialist brick oven and steam is injected to give the bread a beautiful rise and blistered crust.
Annabel prides herself on using the very best ingredients. Organic flour from specialist millers, Sicilian Sea salt and locally sourced ingredients including honey, ale and homegrown herbs.
You might choose the bakery's stone baked sourdough, delivered to your door, often still warm. Or a weekly special including rye, focaccia, ciabatta, sandwich loaves, sticky buns and sourdough cookies. Annabel now bakes and delivers more than 100 loaves every week to local doorsteps and organises pop up events at her local duckpond.
So, what is next for Annabel and Bradbourne Bakery…
Bradbourne Bakery was also one of 15 bakeries to be named best in its Region, as 89 county winning venues gathered at 30 Euston Square in London to celebrate some of the leading bakery businesses in the UK, each one having been award the title for the best in its county. From these 15 Regional Winners are announced (see below) before the unveiling of the National Winner.
The 2023 National Bakery Awards also saw other five other accolades handed out.
The industry bodies and associations awarded the next generation of bakers, Rachel Stonehouse winning the ABST Young Baker of the Year, Hannah Earles winning the ABIM Young Baker of the Year, Joseph Scarr winning the CBA Young Baker of the Year and Jordan Young winning the Worshipful Company of Bakers Young Baker of the Year. And last but by no means least, the Outstanding Contribution to Bakery award was presented to Christopher Freeman – Deputy Master of the Worshipful Company of Bakers.
Finally, and new for 2023 we saw the presentation of the first Best Social Enterprise Bakery award. The nominations were Big River Bakery, Cream Bakery, Luminary Bakery and The Clink Bakery, with The Clink taking home the winning title.
The National Bakery Awards 2023 was sponsored by ACI Group, British Bakels, Beam Baking Equipment,  CSM, Dawn Foods, Dubor, Edme, EPP, Ireks, Lesaffre, Matthews Cotswold Flour, Puratos, Rondo, Speciality Breads, Wildfarmed, Zeelandia.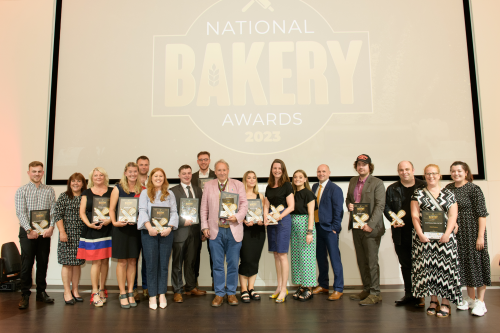 THE NATIONAL BAKERY AWARDS 2023 REGIONAL WINNERS 
NATIONAL BAKERY OF THE YEAR
Bradbourne Bakery, Kent
EAST MIDLANDS
 The Good Loaf, Northamptonshire
EAST OF ENGLAND
Fitzbillies, Cambridgeshire
LONDON
Dunns Bakery, Greater London 
NORTH EAST ENGLAND
Northern Rye, Tyne and Wear 
NORTH EAST SCOTLAND
Vegan Bay Bakery, Aberdeenshire 
NORTH WEST ENGLAND
The Bear Bakery, Cheshire 
NORTH WEST SCOTLAND
Stephens Bakery, Stirling 
NORTHERN IRELAND
Heatherlea Bakery, Down 
SOUTH EAST ENGLAND
Bradbourne Bakery, Kent
SOUTH EAST SCOTLAND
Alex Dalgetty & Sons, Scottish Borders
SOUTH WEST ENGLAND
Burns the Bread, Somerset 

SOUTH WEST SCOTLAND
Christie the Baker, North Lanarkshire

WALES
Alex Gooch Bakery, South Glamorgan

WEST MIDLANDS
Live Love Loaf, Staffordshire

YORKSHIRE AND THE HUMBER
Roses the Bakers, South Yorkshire 
Social Enterprise Bakery of the Year
Clink Bakery
Outstanding Contribution to Bakery
Christopher Freeman
ABIM Young Baker of the Year
Hannah Earles
ABST Young Baker of the Year
Rachel Stonehouse
CBA Young Baker of the Year
Joseph Scarr
Worshipful Company of Bakers Young Baker of the Year
Jordan Young
You may also be interested in…